Pelican-Hardigg rack mount cases offer the ultimate shock protection for sensitive equipment.
These customizable cases come in a variety of sizes and styles to meet your own space and design requirements. From medical devices to computer servers, your fragile equipment will be safe in these sturdy and expertly engineered rack mount cases.
At Custom Case Group, we're constantly working to provide unique solutions that meet your needs. Our team works hard to make it easy for you to store, transport, and access your equipment in customized Pelican-Hardigg rack mount cases.
REINFORCED CORNERS AND EDGES – 15% to 20% thicker corners and edges for added impact protection.
DOUBLE WALLED RIM FOR TONGUE-IN-GROOVE SEAL
Retains sealed after impact. Allows case to be splash and rain resistant.
RACK FRAMES – Made of either a strong lightweight extruded aluminum frame or steel frames depending on the case model. Frame holes are tapped with standard U.S. SAE or M6 metric holes.
HANDLE WELLS – Recessed handle wells provide stacking strength.
ELASTOMER SHOCK MOUNTS – These are installed on the four corners of the front and back of the rack frame.

– Lower payloads use eight shock mounts.
– Heavier payloads use 16 shock mounts, two on each corner of the frame.

The elastomer shock itself plays a big role depending on the payload weight.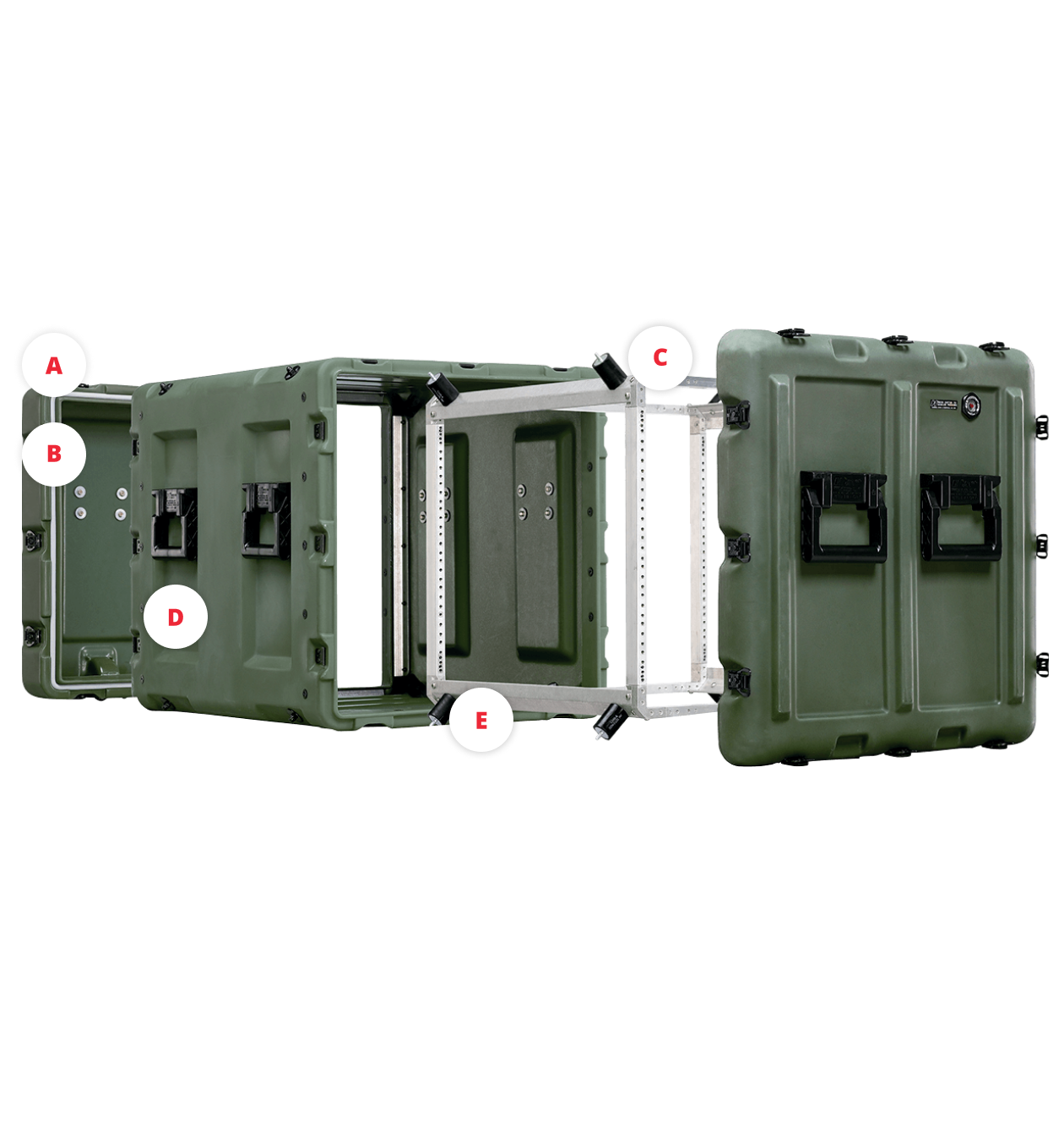 CLASSIC CASES
20–40 lb
40–60 lb
60–80 lb
80–100 lb
100–170 lb
160–200 lb
200–340 lb
SHOCK MOUNTS
8
8
8
8
8
16
16
Common Rack Mount Case Customizations
"G" rating defines how fragile or sensitive the equipment is to shock and vibration.
Rack Shock System
The rack shock system controls the shock impact on the rack frame.
Rack Sway Space
The "sway space" is the space around the rack frame inside the case that allows movement of the frame to avoid damage.
Shock Mounts
More sway space gives the shock more space to work with while decelerating the load.
Frames Styles and U-sizes
Every three (3) holes = One (1) U Size
Contact us today for more information